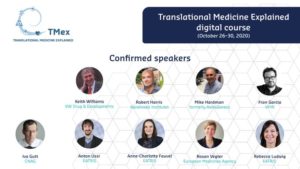 Interested in discovering the landscape of Translational Medicine? Learn from scientists in academia, industry and regulatory agencies and join the 2020 TMex winter school! 
EATRIS has organized the TMex (Translational Medicine Explained) Winter School that is targeted to PhD students in the second half of their PhD, early postdocs and other young scientists who are involved in biomedical research.
For the first time, the TMex will be held entirely online as a 5-day workshop! 
Dates: October 26 – 30, 2020, 9:00 – 18:00 CET 
Location: Your computer – Each day will have a mix of lectures, activities and self-study time. 
There are only 30 seats, so we recommend registering early.
The registration will close on September 1, 2020, or until all seats are filled. 
Documents: TMex Course 2020 and TMex2020 Agenda
For more information and registration click here.