Overall objective
The objective is to better inform and train the rare disease community as well as increase awareness and interest on rare disease research from students. To this end, an educational academic course on transversal and multidisciplinary aspects of rare diseases research will be made available for all stakeholders in a fully online format. The course foresees the development of 5 modules. 
The implementation of the first modules are expected by the end of 2020.  
Target  audience: 
This online course is open to anyone, although it is designed for individuals with a prior interest in rare diseases, diagnostic research, biology, especially postgraduate students and medical students.
Also, it is meant to be used by patient advocacy representatives and advocates, health professionals who want to deepen their knowledge in rare diseases research. 
Description of work & results
 The first task (from January to June 2019) focused on assessing the needs, the target audience and the main topics of the academic education course. Current developments include the development of the two first modules of the course (Module 1: Research in rare disease diagnosis; Module 2: Innovative personalized therapies for rare diseases).
Assessing the needs of the European RD community in e-learning training. A first comprehensive survey was sent in April 2019 to more than 900 European Healthcare Providers, members of the European Reference Networks (ERNs). This survey did include assessment of the training needs (For more information on ERN training needs, please see the EJP RD: ERN RD training and support program). For ERN members, most important training domains are "Scientific tools & methodologies" and "Technical skills". A clear preference was highlighted for in-person trainings. Students were identified as the main target to train.
EJP RD eLearning Survey. To refine and spread out the specific online training needs above those of ERNs, a second survey was developed and disseminated from early June till mid-July 2019.
Methodology
Multiple channels of dissemination were used encompassing the 30 KoL interviewed during the benchmarking activity; all EJP-RD Partners; Patients' Organisations, Orphanet nodes, Universities, Funding Agencies, Research Institutes. The survey was also disseminated via Twitter, the EJP-RD website, and some other partners' websites and networks.
Results from the survey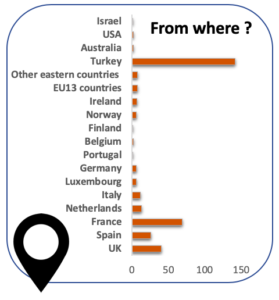 Result #1: 352 individuals answers were received from a very diverse range of stakeholders and countries.
To be noted, the tremendous interest shown from the scientific Turkish community (142 responses). In order to analyze any key differences amongst responders based on their geographical provenance, a comparative analysis of the results was performed between Western-Central EU, Eastern EU and Turkey responses (see the second slide of the pdf file).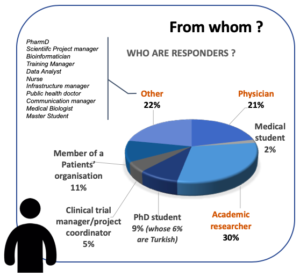 Result #2: Main responders of the survey are academic researchers (30%) and physicians (21%). Interestingly, other stakeholders such as nurses, bioinformaticians, data analysts, or again medical biologists have also shown a clear interest in the survey.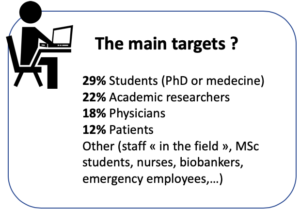 Result #3: Students (both from medicine or PhD) are the main target to train.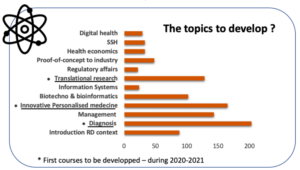 Result #4: The three priority topics to be addressed according to the RD community are: Research in diagnosis, Innovative personalised therapies and Translational research.
Result #5: The course will foster interactivity both between learners themselves (peer-to-peer learning, sharing experiences and understanding, ultimately favoring new collaborations, …) and between learners and experts (questions/answers sessions to ensure the most comprehensive understanding of the course content).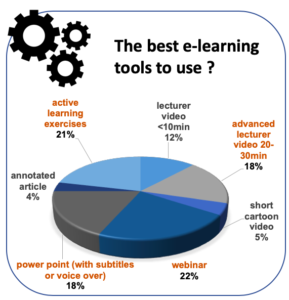 Result #6: As far as e-learning tools are concerned, the community's choice tends towards active learning exercises, webinars, advanced lecturer videos (~20min) and PowerPoint presentations with subtitles or a voice over. Additional outcomes from the survey include the wish for an academic accreditation.
3. Ongoing and future tasks
The two first modules are currently being developed and are aimed to be launched by the end of 2020. Stay tuned for updated information.
For more information, please contact:
Roseline.favresse(at)fondation-maladiesrares.com
Emilie.bonnaud(at)fondation-maladiesrares.com
Download the pdf file
Online available training resources
As part of EJP RD WP16 activities, a benchmarking of existing online training resources in the rare diseases research area was performed in 2019. This collection of existing and available courses has been compiled using the Tess ELIXIR repository platform. It now contains more than 30 resources. A regular monitoring is being carried out in order to update this list of training resources on a regular basis. Only currently or regularly available and freely accessible resources are included. If you notice that some useful training resources are missing, please kindly contact us, we would be happy to complete this list of training resources. Find below the current list of mapped resources.