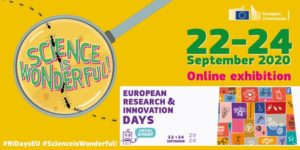 The online science exhibition will take place online between 22 and 24 September 2020 and is part of the European Research & Innovation Days.
Slowing down global warming, improving our cities, preventing hunger and drought, fighting cancer… It's all part of the topics that schools, youth, citizens and stakeholders will discover through Science is Wonderful!, a free science exhibition which brings the world of science to the public.
Science is Wonderful! will feature an array of fun, educational online activities that introduce visitors to the latest cutting-edge research taking place throughout Europe and the rest of the world. The exhibition has established a reputation as a major event that introduces the public to the science of tomorrow.
The event will shine a spotlight on 40 research projects funded by the European Union that impact citizens' lives and address the development of solutions to the COVID-19 crisis and its aftermath, as well as core priorities for both European and Global recovery efforts – such as the European Green Deal.
More info can be found here and don't forget to follow it on Twitter by tagging the official @EUScienceInnov account and using #RiDaysEU and #ScienceIsWonderful!