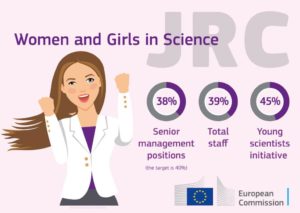 On 11 February 2020, International Day of Women and Girls in Science, Commissioner Gabriel launched the 7th edition of the EU Prize for Women Innovators. Applications are now open until Tuesday 21 April at 17:00 CET (Brussels time). If you think you have what it takes to become the next EU Woman Innovator, don't miss your chance and apply now.
Who can apply?
The contest is open to women from across the EU and countries associated to Horizon 2020, who have
founded or co-founded a successful company and
brought innovation to market
Award criteria
breakthrough innovation – the company founded or co-founded by the contestant provides a truly innovative product or service
impact – the product or service addresses a specific societal need or challenge, with significant benefits to citizens and to the economy
inspiration – the contestant has shown active leadership, she has played a pivotal role in the success of the company and inspired others
Applications are judged by a panel of independent experts from across Europe.
For more info and how to apply click here.