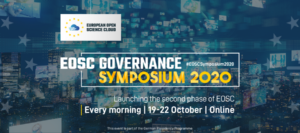 This year's largest event organised by the European Open Science Cloud Executive (EOSC) & Governing Boards with the support of the EOSC Secretariat project will go virtual on 19-22 October 2020 (mornings only). Registration is free of charge and open here until 13th October 2020.
The event will analyse the progress of EOSC after two years from its official launch focusing on the added value of EOSC for the European scientific community.
The main objectives of this year Symposium are:
to show the value of EOSC to research performing organisations and research funders;
to onboard new members into the EOSC Association;
to engage the EOSC providers explaining how and why federate the services with the objectives.
The coordinator of the EJP RD, Dr Daria Julkowska will participate in panel discussion of the "Widening to the public and private sectors" session to present the impact of EOSC and expected collaboration with rare diseases community.