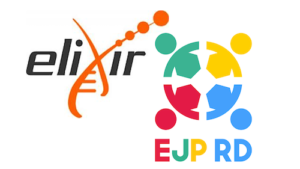 EJP RD activities that will be introduced during the sixth ELIXIR All Hands Online meeting 2020 that will take place virtually 8 -10 June 2020.
The meeting brings together members of the ELIXIR community from across the ELIXIR Nodes, and collaborators from partner organisations, in order to review ELIXIR's achievements and activities so far and discuss plans for the future. Attendance from participants from ELIXIR Nodes and invited guests are welcome.
In particular, EJP RD will be presented on:
8 June, 9-10.30 am,

"

FAIRification for knowledge management" mini-symposium chaired by Dr. Sirarat Sarntivijai and Dr. Erik Hjerde. Dr. Annika Jacobsen will give a talk title "From rare to FAIR data: R&D of FAIRification procedures in European Joint Programme Rare Diseases (EJP RD)"
10 June, 11.30 am -1.30 pm, Workshop #8 "European rare disease research infrastructure" chaired by Dr. Marco Roos, Dr. Sergi Beltran, Dr. Leslie Matalonga, and Dr. Claudio Carta. Surveys and use-cases will be presented. 
Full program is available for consultation, please click here.
Registration is open.