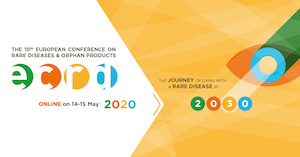 ECRD 2020 will now take place exclusively online, on 14-15 May. More people than ever before will now be able to participate in ECRD from the safety and comfort of their own home, connecting via an interactive online platform wherever they are in the world.
Register for ECRD 2020 online at the new reduced rates.
For more information on the conference's new format we invite you to take a look at the updated programme at a glance. The conference's full programme will continue to be updated as the content of each theme is being finalised and adapted to an online audience. We will keep you informed as this evolves.
Please, register for the free ECRD 2020 pre-conference WEBINAR that will take place on Thursday 23 April, 1-2 pm CEST. This webinar is an opportunity for you to hear the latest outcomes of the Rare2030 Foresight Study and understand how the study lays a foundation for policy discussions throughout each theme of the conference.