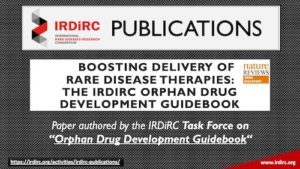 The IRDiRC new review has been published on Nature Reviews – Drug Discovery. The paper is authored by the Orphan Drug Development Guidebook (ODDG)  Task force that has helped reaching the IRDiRC goal 2 '1000 new therapies for rare diseases will be approved, the majority of which will focus on diseases without approved options' by 2027.
The aim of this guidebook is facilitate drug development for rare diseases by organizing available tools in the USA, Europe and Japan into a standardized framework and make them ready for optimal uses.  These organized tools were referred to as the 'building blocks' of development. The task force mapped a total of 110 building blocks available to orphan drug developers and created concise fact sheets for each of these supportive tools, including key information on their application and expert opinions on their advantages and disadvantages
Furthermore, the ODDG task force provided a roadmap for developers (see ODDG materials), especially stakeholders who are less familiar with this complex enterprise. By enhancing the use of available tools, delays in development timelines can be avoided, risks and costs reduced, and patient and regulatory acceptability improved.