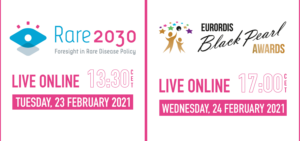 Looking for exciting new events? Don't miss out and join EURORDIS LIVE at the Rare2030 Final Conference and the 10th annual Black Pearl Award.
Registrations are open HERE.
Learn about the future of rare diseases at the Rare2030 Final Conference. You will have a unique opportunity to engage with some of Europe's most prominent policymakers, opinion leaders, and medical specialists, and lead the way for the future of our community. The event will be held virtually –and for free – on 23 February 2021 at 13:30 – 18:30 CET.
In 2021 the Black Pearl Award marks its 10th anniversary, rewarding exceptional contributions to shaping the future of people living with a rare disease and building a better and more inclusive for everyone. Put on your dress, or suit, or even your pyjamas, and let's celebrate the Award together on 24 February 2021 at 17:00 CET. #EURORDISAwards2021