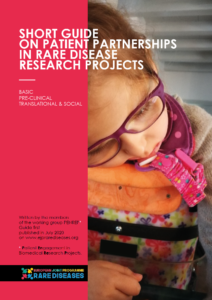 The EJP RD Short guide on patient partnerships in rare diseases research projects aims to encourage fruitful, sustainable and enduring partnerships between scientists and patient organisations, co-leading the way for systematic patient-centered research.
"Collaboration requires an effort from both sides. The more we understood each other's goals, the better the communication and the collaboration became."
Veronica Popa, MCT8-AHDS Foundation, Romania
Providing definition, examples, testimonials of patient partnerships, describing its benefits, preventing common pitfalls and accompanying applicants, this guide will support applicants to describe the role and added value of patient partnerships in research proposals.
This guide was developed with the help of a working group led by EURORDIS comprising of patient representatives and research funders and reviewed by independent academic researchers. Ultimately, the guide will foster a partnership culture and contribute to an improved understanding of the added value of patient engagement and involvement in basic, pre-clinical, translational and social research for the Rare Disease Community in Europe and beyond.