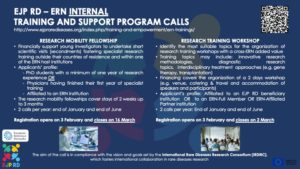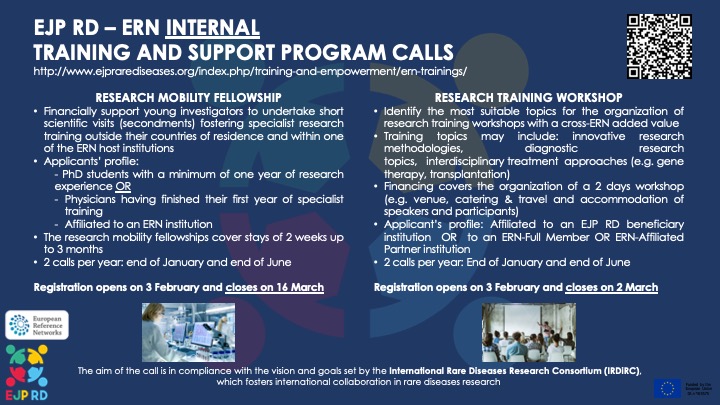 The aim is to fill the gap in the available education on rare diseases research by creating and implementing a comprehensive and cohesive program of education and empowerment for different target groups or stakeholders such as researchers and young clinicians.
To this end, training programs based on two main components (research mobility fellowship and research workshops) will be delivered and accreditation of individual workshops at institutions such as the 'Union Européenne des Médecins Spécialistes' (UEMS) can be applied. 
The

Research Mobility Fellowship & 
Research Training Workshop calls are now closed
Research Mobility Fellowship

(two calls per year)  

 
The aim of the fellowship is to financially support PhD students and medical doctors working in ERN-member institutions to undertake short scientific visits (secondments) up to 3 months outside their countries of residence and within one of the ERN host institutions. Through this training measure the fellows should acquire at their host (secondment) institution new competences and knowledge related to their research on rare diseases and with benefit to their ERN. 
Applicants/Application profile:
PhD students with a minimum of one year of research experience OR physicians having finished their first year of specialist training

 

Be affiliated to an ERN Full Member or to an ERN-Affiliated Partner Institution from one of the 24 

ERNs

 at the time when the application is submitted, as well as during the proposed period of the training stay

 

The host (

secondment

) institutions must be Full or Affiliated Member

 of an ERN at the time when the application is submitted, as well as during the proposed period of the training stay

 

Added value to ERN of the mobility stay

 
The call is closed.
To apply please use the following online application form
For detailed information and templates you can view and download the full call documents:
EJP RD – ERN Call – Research FELLOWSHIP
Template Letter of Acceptance by HOST Institution
Template Letter of Support by HOME Institution
If you have any inquiries, please contact: 
Research Workshops

(

two calls per year)

 
The goal of the workshops is training of ERN researchers and clinicians in ERN relevant innovative themes. Training themes may include innovative research methodologies, diagnostic research methodologies, interdisciplinary treatment approaches, such as gene therapy and transplantation, etc.
Moreover, the workshops will be aiming to provide a cross-ERN added value. 
The workshops will be implemented as two-day events. Topics can be proposed by the ERNs or by investigators belonging to EJP RD beneficiary institutions. 
There will be two deadlines for workshop topic applications per year (in January and June). 
Topics will be selected taking into consideration several elements such as: 
Addressing cross-cutting issues relevant for ERNs

 

Multidisciplinary aspects

 

Fostering collaboration (within and between ERNs)

 

No overlap with other EJP RD training activities

 

Relevance of the topic for the ERN(s)

 

Benefits for the RD community by the workshop

 

Appropriate training methodology

 
EJP RD – ERN Call – Research Workshop
The call is closed.
If you have any inquiries, please contact: 
sanja.hermanns(at)med.uni-tuebingen.de