15 December 2022 - 17:00
Bari, Italy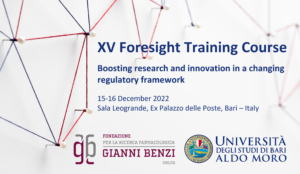 Fondazione Gianni Benzi Onlus is jointly organising with Università degli Studi di Bari Aldo Moro the XV Foresight Training Course "Boosting research and innovation in a changing regulatory framework". It will run as a hybrid meeting on 15-16 December 2022 in Bari, Italy at Sala Leogrande (Ex Palazzo delle Poste, piazza Cesare Battisti 1).
The course will be focused on:
clinical research, as expected from the new Clinical Trial Regulation implementation and the Accelerating Clinical Trials in the EU initiative
innovative methodologies including digital and in silico approaches, implemented into all the phases of drugs development, with an insight on the paediatric and rare diseases research
challenges and opportunities of the use of Real-World Data and of a patient-centric model to boost research and innovation
Relevant stakeholders, including representatives from European Institutions, academia, companies and patients, will provide their point of view.
Registrations are open here.
A registration fee is foreseen for participants from companies and for-profit organisations only. Additional details, including the agenda, on our website.
Feel free to share the event among you contacts!
EVENT INFO :
Start Date:

15 December 2022

Start Time:

17:00

End Date:

16 December 2022

End Time:

16:10

Location:

Bari, Italy