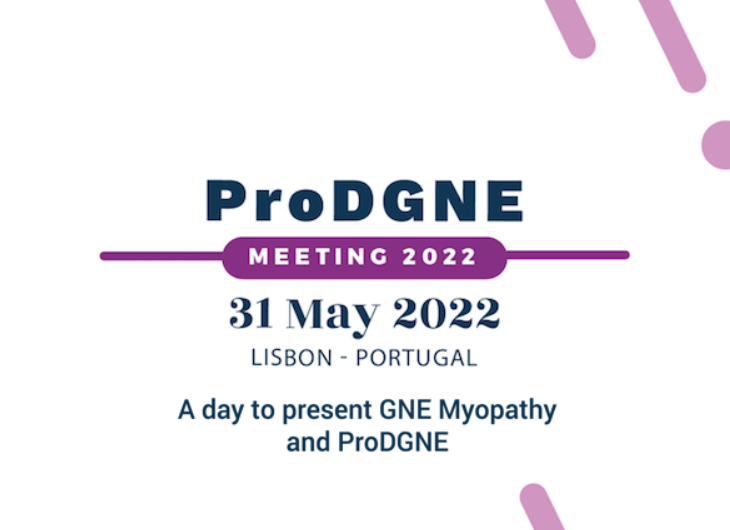 31 May 2022 - 09:30
Sala Ágora, NOVA School of Science and Technology, FCT NOVA Caparica, Portugal
The ProDGNE consortium is organising the ProDGNE Meeting 2022, a multi-stakeholder opportunity to meet in person, discuss impactful research in GNE Myopathy (GNEM) and expand the research network while building a long-term partnership where patients are central partners, key drivers and decision makers in R&D.
The meeting will be held on May 31st, 2022 in Portugal (Sala Ágora, NOVA School of Science and Technology, FCT NOVA Caparica, Portugal) from 9:30am to 6:30pm local time. ProDGNE is a 3-year transnational pre-clinical research project funded in the framework of the European Joint Programme on Rare Diseases (EJP RD) Joint Transnational Call 2020 on "Pre-Clinical Research to Develop Effective Therapies for Rare Diseases". 
ProDGNE brings together patients, European and Canadian experts in clinical GNE Myopathy, sialic acid, -omic techologies, glycobiology, medicinal chemistry, pharmaceutical technology and clinical pharmacology to develop an innovative class of drugs, called prodrugs, and improved delivery strategies to restore defects derived from GNE mutations. The meeting aims to expose the most up to date applied knowledge on the field of sialic acid biology and rare diseases, namely on GNE Myopathy, a rare genetic muscle disease and Congenital Disorder of Glycosylation (CDG) affecting young adults. The program includes an introduction to the ProDGNE team and project, scientific challenges in GNE Myopathy and ways to build early and meaningful patient partnership in research for rare diseases.
EVENT INFO :
Start Date:

31 May 2022

Start Time:

09:30

End Date:

31 May 2022

End Time:

18:30

Location:

Sala Ágora, NOVA School of Science and Technology, FCT NOVA Caparica, Portugal