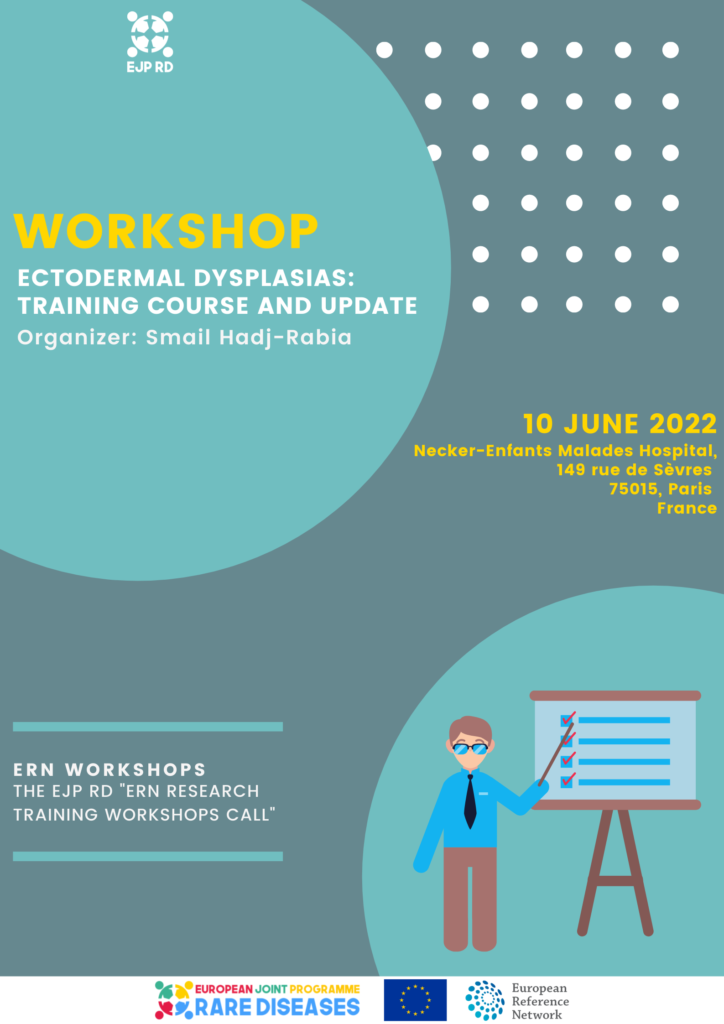 In the context of EJP RD's ERN Workshops, a face-to-face training course on "Ectodermal dysplasias: Training course and update" aimed at informing and training participants in basic and practical aspects on Ectodermal Dysplasias (ED) and Incontinentia Pigmenti (IP) with specific focus on recent research update research and innovative care is being organised by Smail Hadj-Rabia of ERN-Skin, Department of Dermatology, Necker-Enfants Malades Hospital.
The in-person event will take place on June 10th at the Necker-Enfants Malades Hospital in Paris, France.
The workshop is open by prior registration and selection to residents in dermatology, ophthalmology, dentistry, surgery, neurology, general practice, pediatrics, researchers, and patient representatives who are employees of or affiliated to an ERN Full Member or affiliated Partner institution.
The training workshop is free of charge and consists of participation in the conference with other specialists (with feedback on their observation and key learnings of the day) as well as classes on ED and IP. Real-life situations and ill-defined problems will be proposed. If the course is restrained by the pandemic situation, it will be made available as a webinar.
Registration has been extended to May 2nd ! Registration closes on April 14th, and those selected to participate from among the applicants will be informed by April 30th of their selection.
More information and registration here: https://www.ejprarediseases.org/event/ejp-rd-ern-workshop-translational-research-on-bone-impairment-in-rare-diseases/