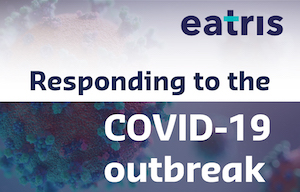 EATRIS mission is to accelerate the translation of promising scientific discoveries into benefits for patients. The focus of its main activities is on bridging the innovation gap between the lab and the clinic as well as offer services and expertise to increase chances of research to successfully reach patients.
The EATRIS infrastructure's resources are therefore highly relevant for the research community in the context of the Covid-19 pandemic, and include the following expertise and services:
2019-nCoV challenge studies in Non-Human Primates (NHPs) under BSL3+
Advanced preclinical models including NHPs, with advanced analytical readouts including molecular and structural imaging (including real-time imaging of lung lesions), available under BSL 3 conditions
Immunomonitoring and virological assays
High throughput screening supporting diagnostics, genotyping, phenotyping and drug repurposing
Clinical isolation units
Expertise on pharmacology and protein-drug interaction modelling
Regulatory support, including Scientific advice procedure with the European Medicines Agency or national authorities
These services are available for any researcher or research team (academic or industrial) that is developing a potential therapy, vaccine or tool for use against the current Covid-19 pandemic, with secured funding. EATRIS can also put you in touch with the right partners if you are preparing a funding proposal. For more info, please click here.