The aim of the ERN RD Training and Support Program is to fill the gap in the available education on research in rare disease by creating and implementing a comprehensive and cohesive program of education for different target groups or stakeholders such as researchers and young clinicians.   
To this end, two calls per year will open: 
Research 

training 

w

orkshop

s

 

 
Research mobility fellowships 

 
In order to apply for funding, either for workshop or for fellowship please check our funding opportunities section.   
These calls have been slightly modified due to the COVID-19 outbreak.   
The very exceptional situation due to the COVID-19 outbreak has consequences for the procedures of the ERN Training and Support Program.   
 Selected

 workshops may be organized 

between 4 and 18 months after receiving a positive response to the submitted application

.

 

 

Selected fellows must complete their 

research

 mobility

 trainings  within 18 months

 after

 

receiving a positive response to the submitted application

.

 

 
EJP RD Funded ERN Training Workshops
The "Research Training Workshop" Call aims at identifying workshop topics to train ERN researchers and clinicians in relevant innovative themes with a cross-ERN added value. Selected applicants will receive financial support by EJP RD for the organization of a 2-days workshop for approximately 20 participants. 
Training themes may include innovative research methodologies, diagnostic research methodologies, interdisciplinary treatment approaches, such as gene therapy and transplantation, etc. Topics have to be proposed by the ERNs or by investigators belonging to EJP RD beneficiary institutions. 
SELECTED WORKSHOPS 
The second round of submission and evaluation was launched in September 2020 and has been finalized in December 2020. As a result, four workshops were recommended for funding (listed below). The workshops will take place in the upcoming months. The information on their launch and more details will be provided and updated on the EJP RD website. 
The 8th international conference on Ectodermal dysplasias (Smail Hadj-Rabia, INSERM, Dept of Dermatology, Paris, France)
Trans-ERN Working Group for Spina Bifida Training: Workshop for future research on innovative diagnostic and interdisciplinary treatment (Giovanni Mosiello, Bambino Gesù Pediatric and Research Hospital, Rome, Italy)
ERN multidisciplinary research workshop on diagnostics and treatment of high grade endometrial cancer (Cor de Kroon, LUMC, Dept of Gynaecology, Leiden, the Netherlands)
Endocrine cancer – a challenge in adults and children (Barbara Jarzab, M. Sklodowska-Curie National Research Institute of Oncology, Gliwice, Poland)
Launching Advisory Committees for Therapeutics (ACT) in rare diseases.
Joanne Lee, Newcastle University, UK – EJP RD beneficiary.  
The aim of this workshop is to raise awareness and build capacity of ERNs in replicating the TREAT-NMD Advisory Committee for Therapeutics (TACT) model in other rare diseases. The workshop is targeted to ERN coordinators (or a representative from each ERN research working group or similar).  
The TACT was created to address critical unmet needs on the optimization and the streamline drug development  in neuromuscular diseases. Since its establishment in 2009, almost 60 applications have reviewed for advice, in 13 different neuromuscular diseases.  Based on its success and given the large number of rare diseases and heterogeneity of the conditions, the thematic ERN groupings provide a logical framework for establishing ACTs in other rare diseases and highly specialized domains.  
The proposed workshop will communicate the benefits of creating an ACT to ERN representatives and share the lessons learned from the TACT model. In addition, it will deliver a practical demonstration of a 'mock' review (pre-submission grant review), to show how the multi-disciplinary panel works and provide recommendations. A forum for participants engaging with TACT reviewers will be established to gain other practical insights. Moreover, the ERNs will be encouraged to scope-out opportunities in adopting an ACT within their network's disease area – e.g. explore the practical steps, identify new possible collaborations inter– and intra-disease domains, etc. –.  At the end of the workshop, all participants will  have gained a comprehensive understanding of the ACT model and have benefited  by applying the  lessons learned in their disease areas.  
Intranodal Magnetic Resonance Lymphangiography Studies Workshop. 
Willemijn M. Klein, Radboud University Medical Center Nijmegen, The Netherlands. VASCERN – EJP RD beneficiary. 
The aim of this workshop is to learn how to perform and interpret intranodal magnetic resonance (MR) lymphangiography findings, as well as to stimulate the initiation of joined scientific studies involving this technique. The workshop is targeted to senior clinicians with senior research skills, connected to one of the ERNs concerned by diseases that lead to lymph flow problems. 
Intranodal MR lymphangiography is an imaging technique that allows for the lymph nodes and lymphatic vessels to be visualized. Lymph flow problems exist in many rare diseases, particularly in vascular malformations (such as lymphatic malformations), and in primary lymphedema and its associated syndromes (such as Noonan syndrome). Consequently, the potential applications of this technique are of interest to other ERNs that cover diseases with a known or potential lymphatic component in their pathophysiology. In VASCERN, at least 2 working groups cover diseases that cause a problem in lymph flow. In addition, Noonan syndrome is in the area of expertise of ERN-ITHACA. Therefore, this workshop will offer the opportunity to further strength cross-ERN collaboration and establish new ones for the study of lymph flow problems.  
 The workshop will consist of both presentations by experts in the field of lymph flow as well as hands-on sessions to train participants in performing and interpreting MR lymphangiography. Suggestions for cross-ERN scientific studies will be discussed and start-ups will be encouraged during the event. 
Methods to study rare diseases, their causes and treatments: The Basics & Beyond. 
Olaf Dekkers. Leiden University Medical Center (LUMC), The Netherlands. Endo-ERN – EJP RD beneficiary.  
The aim of this workshop is to provide methological knowledge regarding several relevant topics around rare diseases, such as identify the difference between etiologic and prognostic studies, gain basic understanding of randomized studies and novel methods for trials in rare diseases, as well as characterize potentials and challenges of research in large databases. In addition to those, propensity scores, times dependent analysis, misclassification/missing data will be presented to promote interactive discussions around practical ERN examples research, taking both clinical trials and observational data. The workshop is suited for all ERN researchers – PhD students, junior and senior clinical researchers –. 
The EJP RD survey investigating the needs of ERNs demonstrated a knowledge gap of different methodological aspects of clinical trials (CTs). Certain issues assumed to be evident for researchers performing regularly CTs could not be tackled by many researchers that are less familiar to this process. The survey also underlined that most researchers aimed to incorporate observational data or historical controls in their projects. However, it is well-known that handling and analyzing large databases require cutting edge methodological skills to obtain valid research. The workshop will facilitate a proper understanding of different aspects of CTs, including novel methods for rare diseases trials and for challenges when studying their causes or treatments in large databases. 
The workshop foreseen front lectures and interactive sessions with practical studies on use–cases from the ERNs to facilitate the learning process. The final goal is to equip ERN researchers with appropriate methodological skills to critically analyze clinical trials and large databases. Increased knowledge and understanding of clinical epidemiological research will enable the participation and collaboration of more ERN researchers to well-designed clinical trials both inter– and intra- ERN network. 
More information about the ERN training opportunities can be found here.
EJP RD Research mobility Fellowships 
As part of its educational activities, EJP RD runs a Research Mobility Fellowship Programme dedicated to young researchers in the European Reference Networks (ERNs). PhD students and medical doctors in training from ERN member and Affiliated Partner institutions can apply for funding of short-term (1 to 3 months) training visits at another ERN center outside their country of residence. The aim of the programme is to foster the acquisition of skills and knowledge relevant to rare disease research. Both clinical and translational research projects are eligible for funding.
The first round of applications has been concluded successfully in July 2020. Out of 16 applications received, the Scientific Evaluation Committee selected six outstanding applications by fellows from Belgium, Denmark, The Netherlands, Slovenia, Spain and the UK. The exchange visits will involve research units from the following ERNs: ERN-RND, EURO-NMD, ERKNet, eUROGEN, ERNICA and ERN-Eye.
All proposals were evaluated of the Scientific Evaluation Committee (SEC) composed of three WP17 leaders, three independent external scientific experts and one representative of the EJP RD office.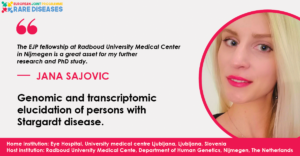 To consult Jana Sajovic's fellowhip details please click here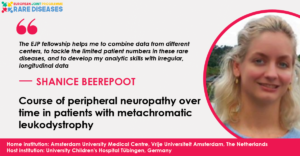 To consult Shanice Beerepoot's fellowhip details please click here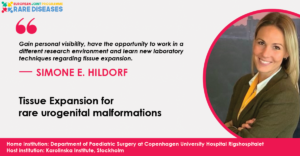 To consult Simone E.Hildorf's fellowhip details please click here (Postponed due to Covid-19)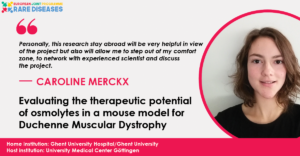 To consult Caroline Merckx's fellowhip details please click here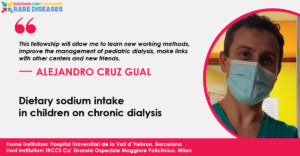 To consult Alejandro Cruz's fellowhip details please click here
For the next programme call, EJP RD encourages junior physicians and PhD students to apply to this prestigious programme and add this exciting and unique experience to their professional education path and background. All relevant information will be published here